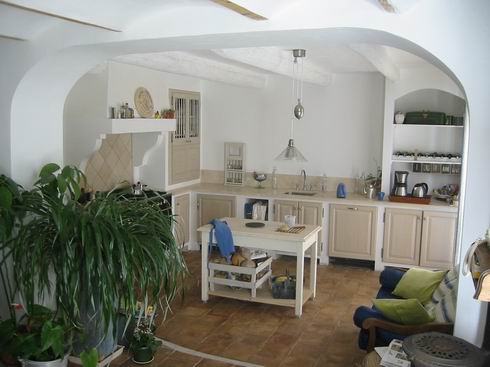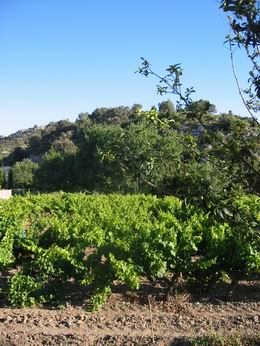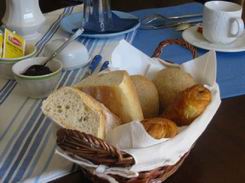 Our House
The dining room and what will be served
Opened up to the kitchen the dining room will be used if weather doesn't permit a breakfast on the terrace. Above all one comes to the region for the sun, but one never knows.
Breakfast is served between 8:30 and 10:30. It consists of fresh French bread, butter, marmalade & jam, French pastries, Fresh fruits of the season, fruit-juice, coffee/tea and chocolate milk. For a supplementary fee your breakfast can be adapted for those in need of a "hearty" breakfast with eggs, ham, bacon, cheese and cereals.
On demand your hostess will prepare you an evening dinner Provenšal style consisting of fresh regional ingredients. Do not hesitate to get a taste of this "cuisine" with it's Mediterranean flavours made with sun ripen vegetables. (25 euro's by person, aperitif/wine and coffee offered).
The terrace
Serving as a dining room on warmer days, it is situated along the southern fascia of the "mas". If the mistral (our notorious northern wind) blows you will be well sheltered for the wind, comforted by the sun you'll be able to absorb nature's splendour.